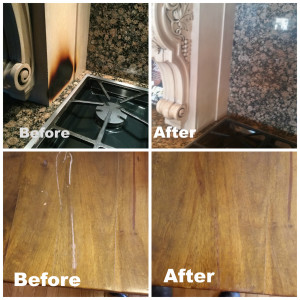 With our mobile repair service, our Touch up specialists come to your home or business to repair your furniture or cabinetry on site. Quality is not compromised with our on site furniture repair service. We can repair damages such as scratches, dents, chips, gouges, water marks, pet damages, etc. in residential and commercial settings
Some of the repairs we are able to perform on site.
Heat marks /Burns
Spills
Dents, Cracks Scratches, Chips
Gouges, Crushed Corners.
Pet Damage
Call us to schedule a free in house consultation: (815) 759-1575